---
It's a well-known fact that a person can be loneliest when surrounded by people. Some very lonely people, far from their homes and families, friendless, bereft of anything familiar, work in the factories of Taiwan. This story is how God brought a young pharmacist from Germany to help pioneer a work in Taiwan to reach those lonely people with the love of Christ.
Waltraud Hornig (pronounced Valltrod) was born in Berbisdorf in the Province of Silesia, East Germany (now SW Poland) during WWII. Her family was separated during the war but finally reunited when she was seven years old. Church meetings were a large part of her childhood and youth, and she was confirmed at the age of fourteen. But she says, "Even after two years of classes for confirmation, I still hadn't either heard the way of salvation or it was never clearly presented to me." When she was eighteen, she met some born-again Christians who led her to a personal relationship with Jesus Christ, and her hunger for the truth was finally filled.
As Waltraud grew in Christ, she read two books about Hudson Taylor (The Growth of a Soul and The Growth of a Work of God, by Dr. & Mrs. Howard Taylor) and was challenged to live a life of faith. Waltraud knew seminary training would help her grow toward this goal, but there was no money for further schooling. (She had already been trained as a pharmacist.) So she had to wait on the Lord for direction.
About that time, two women in her community received an inheritance, which they decided to give to the church. They asked the pastor if there was any particular purpose to which their money could be given. The pastor told them about Waltraud, and they agreed her situation was "perfect." Waltraud says, "Since that time, money has never been a problem. The Lord has always provided for my needs."
Waltraud wasn't sure where the Lord would use her, but she had some help determining that from the Women's Missionary Prayer Union-a national prayer group in Germany consisting of ten thousand women. There was a chapter in Waltraud's home church. They supported Miss Anna Begemann in prayer, an independent missionary who had started a Bible school for tribal girls in Puli, Taiwan. Anna was over the age of sixty and was asking for a co-worker, so the prayer group thought Waltraud should go to Puli to work with her. This suited Waltraud since her call to missionary work had come through her study of Hudson Taylor whose work focused on the Chinese people. Waltraud says, "It seemed like the Lord was only opening one door."
Waltraud arrived in Taiwan in 1969, the days of pedicabs, 10-cent bills and abundant rice fields. Once settled in Taiwan, Waltraud's life took an unexpected turn with respect to Miss Begernann and the work in Puli. Industrial expansion had started in Taiwan bringing thousands of workers from the countryside into three HPZS (Export Processing Zones) in Kaohsiung, Nantz and Tantze. The new industrial workers were often young, many only fourteen or fifteen years old, since Taiwanese children had only six years compulsory education. They often arrived in the city without families, friends or moral support and some girls lived in huge dormitories housing up to 3,000. The EPZS consisted of many different companies producing shoes, cameras, textiles-anything for export-and shipped the manufactured items directly out of the country.
During a language study break from Taichung, Waltraud spent two weeks working alongside Jeannie Dougan and Barbara North in Kaohsiung. Their ministry consisted of reaching out to factory girls living in the hostels. Later on Les and Rose Barnard started an outreach to factory workers in Tantze and Marie Oppmum in Nantz.
Waltraud disliked the industrial setting. It was dirty and crowded, unlike the plentiful rice fields in Taichung, Puli, or the scenic beauty of her native Germany. But before she left the zone, one girl said to her, "You must talk to me more about the Lord. I hope you can come back." Waltraud didn't intend to come back, but the girl's question kept returning to her. Now she says, "I think it was of the Lord. It was like Paul's Macedonian call." Waltraud never did go to Puli to work with Miss Begemann.
Language study completed, Waltraud chose to work with the team involved in ministry to the girls in the KEPZ dormitory. Esme Redwood was also just fresh out of language school, and part of the team. Waltraud soon learned her language training had not been adequate for this work. Some of the factory girls Waltraud met had a low level of education, and didn't feet comfortable speaking Mandarin. Waltraud took them to a Presbyterian church in Kaohsiung in which Taiwanese was spoken. There the girls could understand what was said, but Waltraud couldn't, so she asked for and was given a year of Taiwanese language study.
When her language study was completed (1977), OMF asked Waltraud to move to the EPZ at Tantze. Waltraud moved in with a Taiwanese Christian family in order to improve her conversational language, (So for most of the next twenty years she was to live with Chinese co-workers.) In Tantze, Waltraud tried to reach the girls in the same way as she had in Kaohsiung, but the guard in the dorm was anti-Christian and wouldn't let her go in. Waltraud determined the Lord was leading her to work outside the donnitory.
Waltraud soon found the Lord had been planning this work long before she was aware of it herself. Daniel Tsai, a C.E.S. (China Evangelical Seminary) graduate, and several friends had the vision to found an organization later called the Taiwan Industrial Evangelical Fellowship (TIEF). In the beginning, the national church was not enthusiastic about Daniel's vision for industrial evangelism in Taiwan, so there was not a lot of financial support for the work. But the TIEF had a clear vision, which the Lord blessed and prospered. (Nearly 25 years later, the TIEF is still in operation. There are fifteen co-workers in central and northern Taiwan, and Daniel Tsai is still the director.)
The Lord called Ruth Chuang, a graduate of OMS's Chung Tai Seminary, to join Waltraud in her work. By faith, TIEF agreed to support Ruth financially. The Chinese church gradually saw the need and gave more generously, and eventually TIEF was able to support Ruth fully. Waltraud and Ruth opened the Tantze Gospel Center in a highly visible location-across from the main gate to the EPZ. A large cross identified their spacious meeting room, on the fourth floor above a bank, as a Christian activity center. Waltraud's goal was to give the Center a "family" atmosphere, following the pattern she had established in her own apartment in Tantze.
The week of the official opening of the Center, Gisela (Holman) Lee arrived in Taiwan. She describes her six years at the center as "the days when the fridge wasn't mine alone." In those days there was little entertainment and workers were eager to participate in the planned activities of the Center or just "hang out" in a place that felt like home.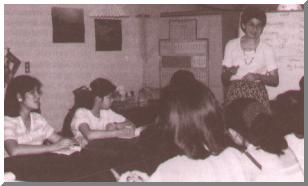 The main activities were planned for the evenings, but night shift workers often came by in the mornings and afternoons. Waltraud and Ruth lived in the Center. Waltraud recalls that occasionally a visitor would walk right into her bedroom (located just off the activity area). It was hard for her to know if she should just let them enter or if she should maintain a private place for herself. Waltraud warned new co-workers it was "life in a fishbowl."
Evenings were filled with interest classes (cooking, handicraft, English, etc.) and Bible studies. All classes had a gospel presentation. On Fridays, they all shared in a dinner together, followed by The Friday Club, a lively evangelistic meeting, to which people could bring friends. An average of forty people attended and it was at this time that Waltraud's ministry changed to include fellows as well as girls. Visitors were asked to enter their names and addresses in a guest book. In this way, the Center was able to stay in contact with the workers. The guest book was attractively decorated with photographs and memorabilia. This helped the workers to identify Christian co-workers and get acquainted with those who frequented the Center. Ruth published a monthly newsletter as a way of maintaining contact with those who moved to other zones. This newsletter eventually grew into a monthly publication, "The Friend of the Workers," produced by TIEF that included testimonies, leisure-time ideas and advice for coping with stress and loneliness. It is still distributed to thousands outside many factory gates.
Waltraud says the work was tiring but very fulfilling. Strong and lasting relationships developed as a result of being "available" and some who found the Lord became valuable volunteer helpers. About ten young people entered full time service, some joining TIEF as staff workers after seminary training.
Waltraud, Ruth, Gisela and other coworkers became a "big sister figures" to the young people who came to the Center. Waltraud often hears people who have passed through the Gospel Center's doors call her "He Jye" (Big Sister He). Recently, a woman called and said, "I've been looking for you for twenty years." She had met OMFer Marie Opperman in a Taichung church and was able to locate Waltraud. She had been in one of Waltraud's English classes, heard the gospel and believed.
In her factory work, Waltraud had seemingly endless creative ideas for introducing people to the Lord. She set up a booth at the local night market in order to present the "gospel bridge" posters and a book table. Open-air meetings were held quarterly with popular Christian singing groups. Outings and two-day camps gave more opportunities to sow and water the good seed and reap a harvest.
By 1985, others had joined Waltraud and Ruth in their work in Tantze, so TIEF and OMF suggested Waltraud move north to help start a new center in Hsin-chuang. Paul Buttrey recalls, "She could have stayed with the ministry in Tantze and sent others off to start the work in Hsinchuang, but she went herself."
Waltraud describes Hsin-chuang as "a hard and dirty city." She lived in a tiny apartment, but this time the Center was separate from her living quarters, giving her some "breathing space." Waltraud worked for three years at the Hsin-chuang Gospel Center still operated by OMF and TIEF to this day. She first worked with TIEF staff worker Jeannie Kang and later with OMF missionary Rieko Kinoshita.
In 1988 OMF asked her to move to Taichung to do field administration. The skills Waltraud had gained through many years of ministry were needed to help less experienced missionaries. It was, however, less fulfilling and removed her from direct involvement with Chinese people. However, as Waltraud was to see, God had good things in store for her. In 1993 Max Graf came to Taiwan as an OMF "Partner" from Switzerland. This brought him in contact with Waltraud, since he also took part in the OMF activities. Waltraud recalls very vividly that the Lord made her aware of a possible marriage to Max from the start, but she had to be quiet about it. For nearly two years, she waited on the Lord for His direction and timing. She also used that time to evaluate what marriage would mean to her life and ministry.
Max was not a career missionary with OMF. Therefore, she would probably have to leave OMF if they were to marry. Were marriage and Max worth leaving all the relationships and work she had developed over the years? Waltraud was also seven years older than Max. Would her age be a problem? All this time, Max hadn't directly expressed an interest in her personally. But the Lord kept confirming to her that nothing is impossible with God. Waltraud soon learned the answer to that question, because in 1995 Max asked her what she thought about the two of them getting married. She admitted, with a smile, that she had been thinking about it. The Lord seemed to be leading them together, but Max's father was ill (and subsequently died), so he left for Switzerland. Max came back to Taiwan in July, 1995, and he and Waltraud were engaged in November.
On March 30, 1996, the San Min Road Holiness Church was packed with friends wanting to witness Max and Waltraud's wedding ceremony. Gisela Lee remembers thinking, "The Lord has a sense of humor." She says Max is a typical Swiss (thinking, slow and kindly), a good balance for Waltraud's "Don't give-up" personality. Waltraud says their union "felt so right, and has been confirmed over and over again." They had a year of rest in which to step back from the pressure of work. Waltraud says this was time the Lord gave them to readjust and pray together. "Missionaries get focused on their ministry," says Waltraud, "rather than on the Lord. Stepping back can help you realize what is most important." She appreciates the way Max can stop in the middle of the day to pray or praise the Lord. It has helped her get away from "the Martha syndrome" that she finds such a temptation. It is now easier to "take time off and concentrate on the Lord."
Max and Waltraud now are independent missionaries with the Gethsemane Covenant Church in Tantze whose pastor, Grace Lin, was a TIEF co-worker with Waltraud in the Tantze Gospel Center. They continue their relationship with OMF as OMF Partners.
Last year, the Gethsemane Covenant Church sent them to live in Dung-shr, a small town at the foot of Taiwan's central mountain range northeast of Taichung. Max and Waltratid started out with teenage work in connection with a Christian cram school in Dung-shr. But they realize that uniting the churches of Dung-shr is first priority, in order to create a solid basis for any further Christian work. A first step has been taken with an agape-love-feast, to which all the Christians of Dung-shr were invited. They continue to work trusting in the Lord's promise, "You will not have to fight this battle. Take up your positions; stand firm and see the deliverance the Lord will give you." (2 Chronicles 20:17)